Things I have done this week revolve mainly around the haystack/oil barrel corner in the world.  I built and textured the haystack, tractor, tank, and oil barrels.  I believe the two players' cars are also done this week on Monday.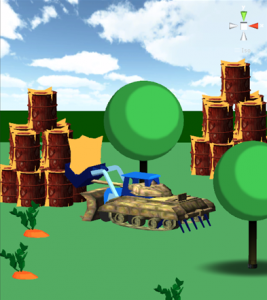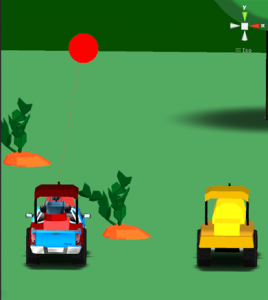 Aside from the things done, I have also learned how to import 3d models and textures into the game, how to create material, as well as the various folders and files in unity, who spent time to teach me how to do things and watch me as I try to update any changes.
Things we are still missing include possibly audio for the game, although it is rather hard if we want to watch the movie and play games with audio on at the same time, which will create confusion to the movie watcher who hears game sounds that come out of nowhere.  Our team has also not calculated the amount of time need to be spent in the game or a timer to encourage people to move faster, and the game lacks a solid ending overall.
Some of the challenges we face include how to use the limited amount of time we have, which is only one week, to get as much stuff done as possible and I also need to calculate how much 3d models and decorations I can do.  Although Laval Virtual is still three weeks away, Yannick is actually already done with his contract in KAIT and is spending his free time coming to KAIT to work voluntarily.
Next week with Yannick being gone our team will change into a Rex only team for the most part, and although I do want to make the world richer by myself, me and Yannick are hesitant to make major changes because of the lack of a programmer.