When you are facing the Unknown, the first reflex is always to make analogies with what you're familiar with: "Oh, this reminds me of xxx", or "it's a bit like xxx"! Well, coming from Europe, this doesn't work very well with Japan…
Because I lack so many aspects of Japanese culture/history/way of life, some things are just beyond my understanding, and I just end up muttering "yeah…welcome to Japan!"
Here's a little selection of the most striking examples!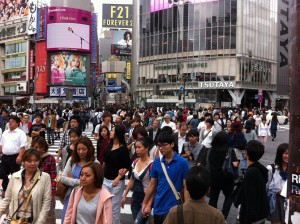 Here it begins… The reason why every single European tourist goes to Shibuya Crossing is that, well, this place is just "otherworldly" to them: thousands of people waiting patiently for the light to turn green, and suddenly you can't see the road anymore. And you'd better make sure you know where you're going because, this crowd stops for no one… But  as curious as it may look like, there's an odd fluidity to all this chaos, and you just reach the other side wondering why you were making such a great deal about this experience! If you look around you, nobody seems to feel the thrill just like you did: Tokyoites seem not to care at all as they keep going on their own business. For them, this is just a regular saturday afternoon in Shibuya, nothing special happened this day. And no one stops to take silly pictures that would disturb the ballet, just the stupid tourists like me!
Shibuya Crossing illustrates perfectly what I felt like in my first days in Japan: me, taking pictures whenever my European standards were over-powered by Japanese "normality".